I need to go to my Happy Place after that last post. Since
IKEA
is
crayzay
on the weekend, and Chuck E. Cheese just isn't the same since they took out the urine-ball pit, I'm calling Cindy McCain.
Why are you looking at me like that? I know, I know -- I was a tad um, *harsh* on her during the campaign
(FLASHBACK)
. But now I just kinda feel sorry for her. A little.
In all seriousness, McCain's campaign didn't do his wife justice. Did you know Cindy used to be a Special Education teacher and worked extensively with Downs Syndrome children? I didn't. Really, we saw more images of Cindy as cold, quiet prop-wife than as the warm, intelligent, compassionate woman she probably (hopefully?) is.
Plus, she's dating
Yanni
.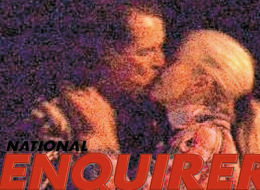 Ok
, he's really a used car salesman named Dino, but it's a blurry picture and if you squint your eyes a little...the idea of Cindy McCain "caught
canoodling
" with
Yanni
is just MUCH more romantic.
Yes, it's the
National Enquirer
but hey, they were right about John Edwards.
Doesn't bother me one bit. I mean, if
THIS STORY
is true, Cindy can have all the
Dinos
she wants. But girlfriend, upgrade to a more luxury model -- one with some fine,
Corinthian
leather, perhaps? You deserve it!
So, here's a shout-out to Cindy McCain. This might be kind of a rough week for you? Come hang with my
fam
. for Thanksgiving. My kids are great and I'm a fabulous cook. But it's gonna be a tofu turkey this year.
Cuz
, you know, bean curd don't struggle and scream when you force it into a chipper shredder.